Mariljohn offer stainless steel commercial kitchens that are custom-made to suit your business requirements. Built to last, while maintaining functionality and innovative design features, we have successfully transformed the kitchen operations of organisations such as Giant Steps and the Latrobe Regional Hospital.
We ensure all stainless steel commercial kitchen cabinets, benchtops and shelving are correctly manufactured and installed, as this process goes a long way in creating a high return on investment for our clients. Long-term sustainability is one of our key goals, therefore we aim to help you by minimising the need for future kitchen repairs or refurbishments.
Our Design Objectives:
Meet your business needs in kitchen design & consultation
Lead the industry for kitchen designs around Australia & internationally
Build strong partnerships with clients and industry bodies
Adopt new technologies and processes into our designs
If you're after a sleek stainless steel kitchen for your hospitality business, Mariljohn can offer design solutions on everything including a commercial stainless steel sink. From demolition to design & construction, see how we have helped our clients propel their hospitality productivity.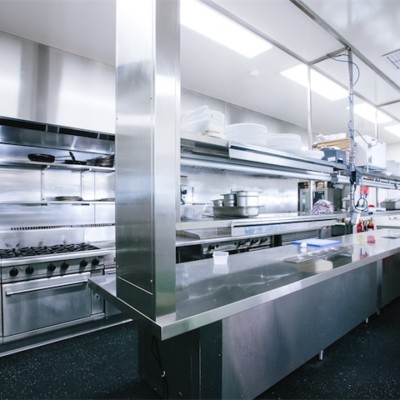 If you're interested in collaboratively designing a stainless steel commercial kitchen, get in contact with our designers on 03 9460 3421 or email us at office@mariljohn.com.au.